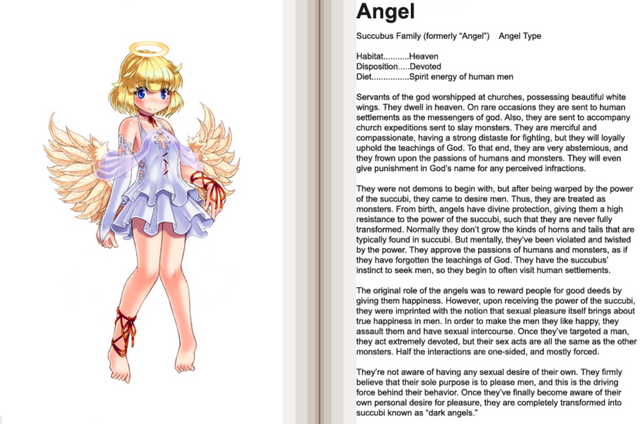 This is a translation of the angel's web profile.
The (longer) book profile from MGE1 can be found elsewhere.
Transcription for cut-paste purposes:
The Angels are servants of God worshiped at churches, possessing beautiful white wings. They normally dwell in Heaven, but on rare occasions, they are either sent down to human settlements as simple messengers of God, or to accompany church expeditions sent to slay monsters. They are merciful and compassionate, having a strong distaste for fighting, but will loyally uphold the teachings of God. To that end, they are very abstemious, and frown upon the passions of humans and monsters. They will even give punishment in God's name for any perceived infractions.
They were not demons to begin with, but after being warped by the power of the Succubi, they came to desire men. Because of this, they are now treated as monsters. From birth, Angels have divine protection, giving them a high resistance against the power of the Succubi, such that they are never fully transformed. They usually don't grow the kinds of horns or tails that are typically found in Succubi, but they've been mentally violated and twisted by the power. They now approve the passions of humans and monsters, as if they have forgotten the teachings of God. They have the Succubus' instinct to seek men, so they will start to visit human settlements more often.
They're not aware of having any sexual desire of their own, and they firmly believe that their sole purpose is to please men, which has become the driving force behind their new behavior. Once they've finally become aware of their own personal desire for pleasure, they will be completely transformed into Succubi known as a Dark Angel.
File history
Click on a date/time to view the file as it appeared at that time.
Metadata
Ad blocker interference detected!
Wikia is a free-to-use site that makes money from advertising. We have a modified experience for viewers using ad blockers

Wikia is not accessible if you've made further modifications. Remove the custom ad blocker rule(s) and the page will load as expected.