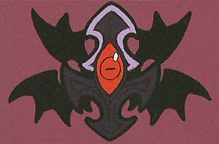 Demon realms are areas in the Monster Girl Encyclopedia world which are under the control of monster girls. The monsters' demonic energy warps the environment where they live, producing an ominous ecology of black trees, pink rivers, blood moons, and aphrodisiac-spitting scorpions. This occurs when the demonic energy they release builds to a critical point, causing a metamorphosis within the lifeforms of the ecosystem.
On a more fundamental level than the obvious twisting of flora and fauna, the magical character of the land changes too. Monster girls become even more lewd and ferocious, while human women become rapidly susceptible to Spirit energy corrosion.
Book Information
Ad blocker interference detected!
Wikia is a free-to-use site that makes money from advertising. We have a modified experience for viewers using ad blockers

Wikia is not accessible if you've made further modifications. Remove the custom ad blocker rule(s) and the page will load as expected.